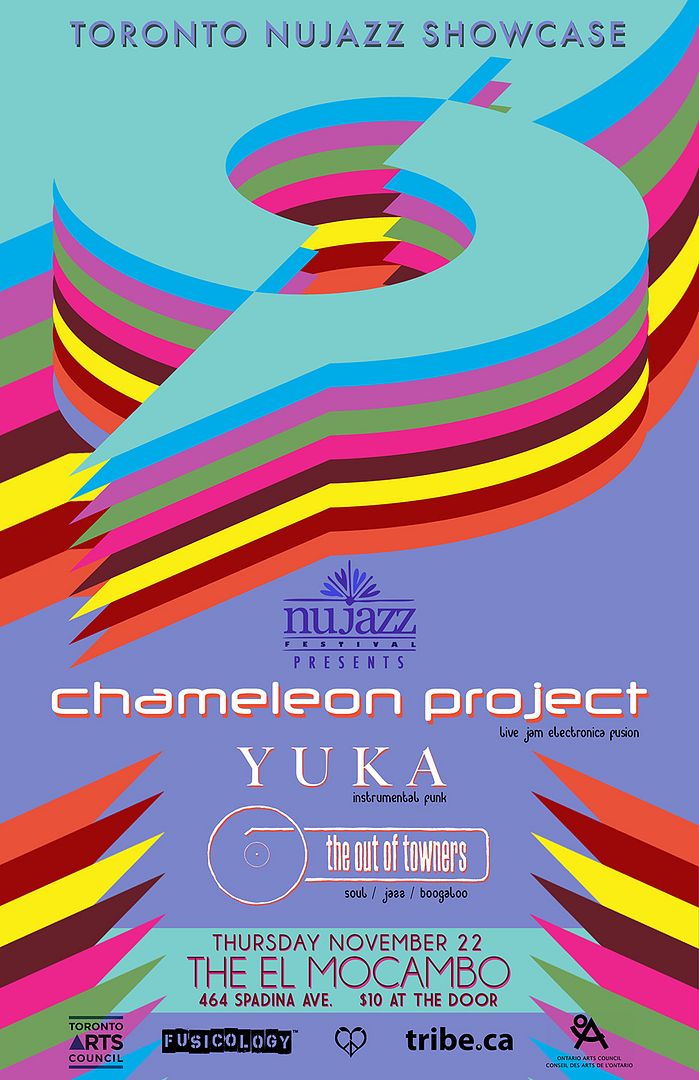 Thursday, November 22th
El Mocambo, 464 Spadina Ave.
Toronto NuJazz Showcase
Chameleon Project
Yuka
The Out of Towners
$10

Chameleon Project
www.chameleonproject.com

As Toronto's agents and instigators of the local live jam, fusion & electronica scene, The Chameleon Project (CP) have been the city's host to, and shared the stage with, such acts as The New Deal, Lotus, Charlie Hunter, EOTO, Dub Trio, Garage Mahal, Biodiesel and Bassnectar. CP has 2 full length album releases, 1 EP and a special DJ vinyl remix pressing to it's credit and has appeared at premier North American festivals such as Camp Bisco (Mariaville, NY), Freedom Festival (Toronto, ON), Evolve (Antonish, NB), and the NuJazz Festival (Toronto, ON) to audiences numbering in the tens of thousands.

Fresh off winning Relix Magazine's Jam-Off Contest -Band On the Rise, The Chameleon Project is once again busting onto the American scene. Armed with bass-heavy material, daring improvisations and mind-bending tonal colors, woven with elements of dub, jazz, disco, fusion and psychedlia the Project has been regularly astounding audiences by taking listeners to sonic places, yet uncharted in the realms of dance music.

Yuka
www.yuka.ca

Yuka is a hard-hitting, dynamic instrumental funk band that has been packing dance floors across the GTA since the group's inception in 2007. Yuka possesses a unique brand of energizing funk music taking direction from a wide variety of influences both classic (James Brown, The Meters) and modern (Soulive, Dap Kings). Visit us at www.yuka.ca

The Out of Towners
www.theoutoftowners.net

Soul/Jazz/Boogaloo outfit The Out of Towners was borne out of the notoriously groovy Leeds, UK music scene, but they now call Toronto home. Guitarist Gareth Perry leads this band's version of raw, charged, organ funk, complete with tight grooves and killer solos. Funk is all about good vibes and non-stop energy, and that's exactly what the Out of Towners bring night after night.