Fusicology on January 30, 2013with 0 comments
MOVEMENT ELECTRONIC MUSIC FESTIVAL ANNOUNCES ITS 2013 INITIAL LINEUP FEATURING RICHIE HAWTIN, BIG GIGANTIC, JOHN DIGWEED, PLUS A SPECIAL PERFORMANCE BY DERRICK MAY & KEVIN SAUNDERSON, MAY 25 – 27.
3-Day Weekend Passes & 3-Day VIP Weekend Passes Now on Sale at www.Movement.us
PAXAHAU ALSO UNVEILS NEW 'MOVEMENT' LOGO and WEBSITE
DETROIT, JANUARY 30, 2013—The 2013 Movement Electronic Music Festival is pleased to announce the highly anticipated return of international techno pioneer Richie Hawtin to play the festival in Detroit's Hart Plaza on Memorial Day weekend.
Producer/saxophonist Dominic Lalli and drummer Jeremy Salker, prominently known as the multi-talented live duo Big Gigantic, have also been booked to play the festival along with UK's acclaimed DJ/producer/radio personality John Digweed. Detroit Techno icons and world-renowned artists Derrick May & Kevin Saunderson will give fans a special side-by-side performance to close out the festival. Other notable acts include Andy C and Luke Slater / Planetary Assault System (live).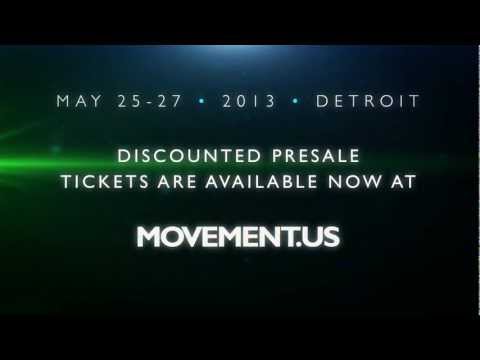 "This year's lineup is a reflection of artists that have been redefining electronic music for decades and those that continue to push the boundaries of the genre," said Chuck Flask, artist coordinator for the Movement Electronic Music Festival.
The 38 performances announced today, in alphabetical order, are as follows:
A Tribe Called Red
Amtrac
Andy C
Art Department
Ben Klock b2b Marcel Dettmann
Big Gigantic
Brendon Moeller aka Ecologist
Carl Craig
Dave Clarke
Dennis Ferrer
Derrick May & Kevin Saunderson
Drumcell
DVS1
George FitzGerald
Hatcha
J.Phlip
John Digweed
Luke Slater / P.A.S. Live
Maetrik
Mala
Mike Parker
Nicole Moudaber
Noisia
Onra
Paco Osuna
Richie Hawtin
Rrose
Ryan Elliott
Silent Servant
Slam
Steve Rachmad
SuperVision
Tensnake
Terrence Parker
The Bug
The M Machine
Tommy Four Seven
Truncate
Paxahau Promotions Group also unveils a newly revamped website and logo. "We've been talking about a new design for quite some time now," says Jason Clark, brand manager for theMovement Electronic Music Festival.  "We wanted the new logo to illustrate motion while revealing a sense of space."
Tickets for Movement are on sale now and can be purchased by visiting www.Movement.us. The cost for a three-day weekend pass is just $79 and grants fans general admission access to the festival grounds with in-and-out privileges. The cost for a three-day VIP pass is just $199 and includes many extras that can be found on the website.
The Movement Electronic Music Festival features: five technologically-rich outdoor stages; more than 100 artists; free Wi-Fi access on the grounds; a posh VIP setting located behind the main stage; dozens of official afterparties; an interactive technology center featuring the hottest gear in the industry; and several art displays to stimulate the senses. Over 107,000 people from around the globe attended the 2012 festival.
Awards + accolades received by the festival and producer include:
Resident Advisor's "Festival of the Month" for May 2012, 2011, 2010, 2008 and 2007.
"Best Niche Festival" 2011 Rolling Stone.
#1 on the 2010 New York Post list of "10 Outstanding Music Fests."
"Best Annual Event" by the Real Detroit Weekly reader's survey in 2012, 2011 and 2010.
"Best Festival" by Metrotimes reader's survey in 2012, 2011 and 2009.
"Best Festival of the Year" by Metromix.com's reader's survey in 2012, 2011 and 2009.
"Festival of the Year" by URB Magazine reader's survey in 2008.
URB Magazine named Paxahau "Promoter of the Year" in 2004.
About Paxahau
Paxahau, now in its eighth year as producers of the MovementElectronic Music Festival in Detroit, first established itself 15 years ago as an online resource to promote both Detroit and electronic music. Paxahau has since earned the respect of their peers and formed a very strong network of alliances throughout the music industry. Today, Paxahau Promotions Group is recognized across the world by artists and industry executives as a premier production and promotions organization. To learn more, visit www.paxahau.com.
Filed under Festival, Uncategorized ·
Tagged with 2013 Movement Electronic Music Festival, A Tribe Called Red, Andy C, Art Department, b2b, Ben Klock, Brendon Moeller, Brendon Moeller aka Ecologist, Carl Craig, Dave Clarke, Dennis Ferrer, Derrick May, Detroit Techno, Drumcell, DVS1, George FitzGerald, Hatcha, J.Phlip, John Digweed, Luke Slater, Maetrik, Mala, Mike Parker, Movement Detroit, Movement Detroit 2013, Movement Electronic Music Festival, Nicole Moudaber, Noisia, Onra, P.A.S. Live, Paco Osuna, Red Amtrac, Richie Hawtin, Rrose, Ryan Elliott, Silent Servant, Slam, Steve Rachmad, SuperVision, Tensnake, Terrence Parker, The Bug, The M Machine, Tommy Four Seven, Truncate