Fusicology.com on February 23, 2012with 0 comments
Everyday Sunshine is a documentary about the band Fishbone, musical pioneers who have been rocking on the margins of pop culture for the past 25 years.  From the streets of South Central-Los Angeles and the competitive Hollywood music scene of the 1980′s, the band rose to prominence, only to fall apart when on the verge of "making it."
Jampacked with over 100+ minutes of bonus features, the DVD release includes audio commentary tracks by both the band and filmmakers, deleted scenes, interview outtakes with Fishbone and Rock Stars (No Doubt, Red Hot Chili Peppers, Bad Brains, Chuck D, Gogol Bordello), special featurettes, and unreleased performance footage of Fishbone's early years and today.
Laurence Fishburne narrates Everyday Sunshine, an entertaining cinematic journey into the personal lives of this unique Black rock band, and an untold story of fiercely individual artists in their quest to reclaim their musical legacy while debunking the myths of young Black men from urban America.  Highlighting the parallel journeys of a band and their city, Everyday Sunshine explores the personal and cultural forces that gave rise to California's legendary Black punk sons that continue to defy categories and expectations.
At the heart of Fishbone's story is lead singer Angelo Moore and bassist Norwood Fisher who show how they keep the band rolling, out of pride, desperation and love for their art.  To overcome money woes, family strife, and the strain of being aging Punk rockers on the road, Norwood and Angelo are challenged to re-invent themselves in the face of dysfunction and ghosts from a painful past.
The documentary includes interviews with: Gwen Stefani (No Doubt), Flea (Red Hot Chili Peppers), Ice-T, Branford Marsalis (saxophonist), Perry Farrell (Jane's Addiction, Porno For Pyros), Questlove (The Roots), and more.
Happy 25th Anniversary Fishbone!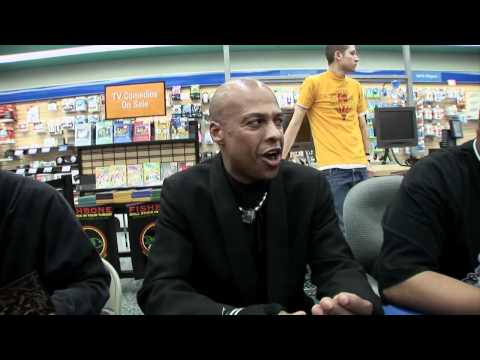 Check out the official documentary website here.
Filed under Culture, Film, Hip Hop, Media, Music, Soul ·
Tagged with Angelo Moore, Bad Brains, Branford Marsalis, Chuck D, Fishbone, Gogol Bordello, Ice-T, Laurence Fishburne, No Doubt, Norwood Fisher, Perry Farrell, Questlove, Red Hot Chili Peppers