Fusicology on May 8, 2008with 0 comments
April 25 – May 4 this year saw the 38th Annual New Orleans Jazz & Heritage Festival, and Fusicology was pleased to run amok in the madness… because there's just nothing like it.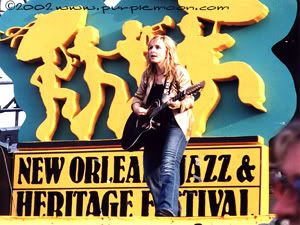 For those that couldn't make it this year, better luck next year. And for those that weren't hip to this scene, consider yourself in the know
Excerpts from our daily blog here…. Enjoy!
<<< >>>
THURSDAY
Thursday actually kicked-off the second weekend of Jazz Fest for us at "Midnight Preserves" – Preservation Hall's debut of the first installment of a multi-media project underway as a creative partnership between Preservation Hall Creative Director and local musician, Ben Jaffe & The Preservation Hall Jazz Band, and Philly's acclaimed DJ/producer, King Britt.
The project began when Britt came across music from work done by Jaffe's father, also a New Orleans musician, where the late legendary Crescent City folk artist, Sister Gertrude Morgan's song "Let's Make A Record" was versioned. Britt was immediately inspired to embark upon his own variation of this, and look further into more of Sister Gertrude's art.
Connecting with the son of the original "remixer" of "Let's Make A Record" commenced an ongoing partnership between Jaffe and Britt that would find King visiting historical and personal family sites in destroyed areas of New Orleans, such as Sister Gertrude's neighborhood in the 9th Ward.
The project soon moved beyond music collaborations and began to incorporate photo and film as well. What we were able to experience Thursday night in the small and humble original performance room of Preservation Hall in the heart of the French Quarter was film piece partially narrated by Ben, including photos and footage taken in places residential to people such as Sister Gertrude and the Jaffes before and directly after the storm that was Hurricane Katrina. The videographer, Darien Bagley, also hailing from Philly, created some very profound, yet subtle, statements in the visual presentation, merging the personal footage with some of the thoughts and concepts traveling through people's minds during and after the great common loss that was "the storm."
The sonic backdrop to engrossing film was a soundtrack DJ'd live by Britt himself, with an amazing surprise live over-dub by respected New Orleans trumpeter, Terrence Blachard. I parts we couldn't help but get up and start to groove in the small open spaces, and during other moments we were frozen, taking in the sights and sounds before us.
Yet, what was just as remarkable as, or possibly even more so, the piece itself, is discovering that this is first time in Preservation Hall (a museum to traditional and indigenous acoustic New Orleans music) history that a DJ or electronic producer/musician has been asked to co-produce a native music project with its artists in residence, and only the second time that a DJ has been allowed to perform inside Preservation Hall (the first time being Questlove from The Roots). An amazing evolution indeed.
<<< >>>
FRIDAY
As the crowd swarmed around the Acura Stage at the end of the day, backed up even into the beaten entry paths, dark clouds coagulated above, as if something epic was about to happen. And indeed, something epic was about to happen: Stevie Wonder.
But just about 15 minutes before he was due to come on, the dark clouds released their reserves and sent droves of people packing, while others – not missing Stevie Wonder even if they had to float in their folding camp chairs – simply popped their umbrellas and held their place in view.
As we all hoped, the rain did let up in time for the Wonder to greet the people just a bit behind schedule, and a roar crescendoed over the muddy racetrack field. The legend appeared on the jumbo screens, that familiar smile evoking a sea of smiles… soggy, dripping smiles, but smiles nonetheless.
First, Wonder brings up his daughter, Aisha Morris, so that he can take her by the hand while he addresses New Orleans, salutes them for rebuilding their city, and suggests that perhaps instead of "The United States of America," we might need to start referring to ourselves as "The United People of These United States"… if we are going to get anywhere out of this mess. He says he hears "that [his] people in Detroit are having a rough time right now, and next, Stevie takes the opportunity to say that, in spite of all of this, or maybe because of it, he is "excited about Barack Obama." Finally, he assures the crowd that, together, "yes we can."
And with that, he takes his bench at his baby grand, his daughter taking her place behind one of the back-up mics, and he opens, quite appropriately, with "Living for the City." Just the sheer sound of his voice alone sends shivers down your spine, and brings tears to your eyes. No matter how often you hear the songs, there is nothing like the real thing.
With intermittent spurts of rain, and the popping and sharing of umbrellas [insert many a Rihanna joke here], a sense of unity and, if only temporary, peace washed over the enormous crowd. For "Ribbon in the Sky," Wonder breaks into a call-and-response with the people which soon found all chanting in unison: "The ribbon, the ribbon –ah, ah –The Ribbon." Somehow we had chased the rain away, and once again, The Wonder had brought the sunshine.
Native songstress Irma Thomas joins Wonder on stage to perform their Grammy-winning song from 2007 together, and then Stevie continues to moves through almost 2 hours of solid gold, making everyone hold out til the very end for "Superstition." And back to reality it was. Yeah, if anyone could save the world, Stevie could.

<<< >>>
We spent several nights taking in some groovy dancefloor time and plenty 'o second-line action to the horny, funky rhythms of the Soul Rebels Brass Band, the Hot 8 Brass Band, Rebirth Brass Band, Trombone Shorty & Orleans Avenue, Spyboy, and Big Sam's Funky Nation… not to mention the annual George Clinton & P-Funk show that never fails to disappoint. Got our DJ action on with Soul Sister, Real, and crew upstairs at the Blue Nile, and enjoyed simply wandering around the lively & colorful Frenchmen St.
<<< >>>
SATURDAY
And just as we thought this much amazing soul music in one place in one week's time just must be a dream, the sun finally really came out to play on Saturday where we enjoyed sets from rising soul singer, Tondrae Kemp, reggae culture staple Steel Pulse, and of course The Roots. With some new players on deck, ?uestlove and Black Thought led a rock-steady set of both new and old, opening with their new single, "Rising Up," and peaking with an uber-anti-war statement with their cover of Bob Dylan's classic, ?uestlove introducing the "song that is near and dear to all of [The Roots]" with the notion that he is "kinda sick and tired of the present administration, naw'mean?" Quest gives his subtle (or not so subtle) nod to Obama, and Dylan's classic is off and running.
<<< >>>
A quick rejuvination with some 'Nawlins seafood, fried green tomatoes, and boudin balls, and we entered what we had no idea would become the packed sweatbox that was a good 'ole fashioned warehouse party! Just off the infamous, and hopping, Frenchmen St an unsuspecting warehouse was transformed into the 3-room party of the week by co-hosts Rehage Entertainment, Preservation Hall, Fusicology, Monopoli Projects, and Toyota Matrix "Antics."
NOLA rum tasting, free, live on-site Tshirt screen-printing, pimped-out Matrix models, and more while gorilla-style sets by The New Orleans Bingo! Show with The Preservation Hall All-Stars and Holy F*ck rang round the brick. King Britt warmed up the growing crowd and we were glad we had room to dance for at least the time being, as the walls seemed to close in just as ?uestlove took to the decks. Without a word, ?uestlove delivered a seemless 2 hours of unrelenting classics and unexpected transitions, closing with one announcement: "See, all music is Hip Hop. Remember that." And he was out.
Then, while 1,800 sweaty bodies clamored for towels and napkins, the set went silent, the lights came back up and M.I.A.'s DJ informs us that he will now play some dirty beats for us while M.I.A. gets ready to blast us with her Sri Lankan femi-gangster. M.I.A. and hype girl rush the stage only for the house to erupt with might we wouldn't have imagined was left. M.I.A. & co. too out 2 sets, while we jammed backstage with M.I.A's biggest fan, Jude Law, not of course sans entourage.
After M.I.A. said her farewell and did her damage, local funk-soul heroine, DJ Soul Sister, took the helm on the 1s and 2s and winded us down with some rare grooves and classic wax to make for the perfect cool-down to bring us back home. A quick stop at the taco truck outside, and home we went just as the day broke.
<<< >>>
SUNDAY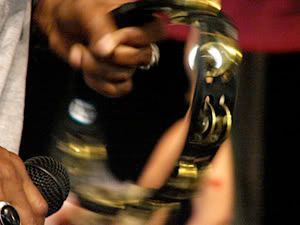 We had no choice but to take it easy in the Big Easy on closing day with a Tribute to NOLA Godmother, Mahalia Jackson, plus Santana, Galactic, and more. Phew.
So THIS is why New Orleans is important! There really is no other place like it on Earth.
— Jocelyne Ninneman for Fusicology
<<< >>>
***Jazz Fest Photos to be Posted Here 05.08.08***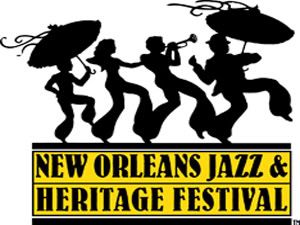 ——————————————————————————————————————-
Filed under Uncategorized ·
Tagged with