Fusicology on March 29, 2007with 0 comments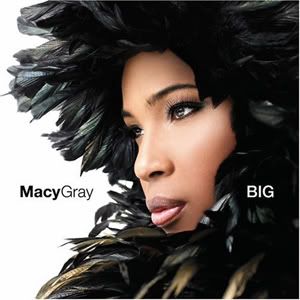 Macy Gray is back after nearly four years, with a dynamic new effort that spotlights those classic pipes in a variety of stylistic settings. With will.i.am and Ron Fair behind the console for most of the album, BIG ranges from the soulful plaint of "What I Gotta Do" and "Finally Made Me Happy" and the modern dance-floor smashes "Okay" and "Get Out," created by Will and Justin Timberlake's newly formed JAWbreakers production team.

Aside from will.i.am and Timberlake, Natalie Cole ("Finally Made Me Happy") and Fergie ("Glad You're Here") provide harmonies and background vocals. BIG includes such unique musical tidbits as the soaring Nat King Cole "Nature Boy" string arrangement which opens "One" the sample of the intro from James Brown's "It's A Man's Man's World" on "Ghetto Love" as well as Macy's playful quote of Dead or Alive's '80s new wave classic, "You Spin Me Round (Like a Record)" on "Treat Me Like Your Money."

Listen to the full album here!
Filed under Music ·
Tagged with