Fusicology on March 22, 2007with 0 comments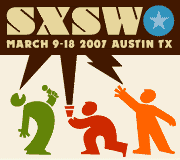 Our own DJ Lady Sha gives up the lowdown at SXSW in her own words.

You know the moment when a parade has just ended and the observing crowd spills into the street to marinate in the post-parade lingering electricity? That is a little like what 6th street of downtown Austin looked like for the week of SXSW this year, as I imagine it does every year. With a different rock band blaring through the windows of each bar/club lining the street, it was difficult to choose a destination and maintain focus upon reaching it without getting sidetracked. As the majority of the events and venues chosen for SXSW encompassed a radius of just a few blocks, the festive energy of the conference was concentrated and contagious, taking over downtown Austin by storm last week giving the city a Mardi-Gras feel for an exciting few days.

Although SXSW is dedicated mainly to showcasing indie rock bands, there was a quality presence of hip hop, soul, electro, house, and funk as well this year. Highlights include the NASA/Dance Right Party featuring talent such as DJ's A-Trak & Spank Rock alongside newly recognized MC diva Kid Sister. Puma and URB also joined forces to put on three days of DJ and live music showcasing at the Beauty Bar (featuring some of my favorite DJ's: Desert Eagles, Morsy and many others). With a VW bug named "The Ice Cream Man" posted outside the bar giving away free ice cream, Beauty Bar had to have been one of my personal favorite locations to stop by every day.

Levi's and Fader Magazine came together to produce an extraordinary party at The Fort featuring Hit+Run screen printing shirts inside the store while Redman, Swizz Beats, A-Trak, Kid Sister and others performed on the outside patio to the sound of free drinks from various sponsors. My personal award for best hip hop presence of the week goes to Scion for bringing the people a free concert featuring legends Ghostface Killah & Rakim backed by the live band Rhythm Roots All Stars (Special shout-out to LA's DJ Hier holding down the decks between performers). Giant Step also created quite a presence for the first time this year by producing the Giant Step Lounge at the Firehouse on Friday & Saturday night featuring phenomenal DJ's such as Nickodemus, J-Boogie, Chicken George, and Sun, offering the tired masses a soulful/eclectic/funky alternative to the rock n roll madness that was 6th street.

Oh…and did I forget to mention the Ozomatli & Public Enemy show honoring Flava Flave's birthday at the Town River park Friday night? Special shout out to the hardworking Miss Fiona Bloom from NY for exposing various talent from South Africa's Harris Tweed to Atlanta's Sky Hy…the diversity of music represented at this year's SXSW was phenomenal. When else in the world could I have walked out of party featuring the wicked Kid Sister on the mic and into a lounge with J-Boogie on turntables with a backup band featuring members of Thievery Corporation, followed by walking past SEVERAL bars featuring a different live rock band each, and into a club with Mark Farina gracing the decks…the answer is perhaps SXSW 2008.
Filed under Conference, Music, Reviews, Uncategorized ·
Tagged with