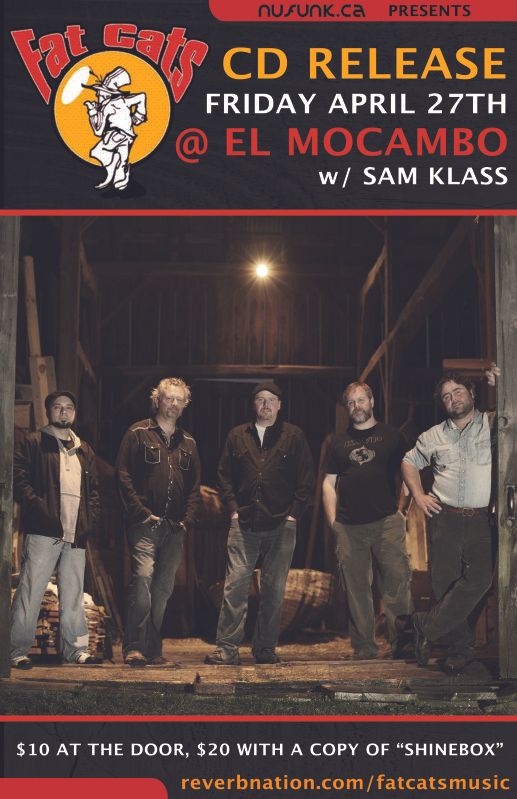 www.nufunk.ca presents..
Fri. April 27th, 2012
The Fat Cats CD Release Party for Shine Box
www.reverbnation.com/fatcatsmusic
w/ Sam Klass (the incredibly musical one man wonder)
http://www.samklass.com/
Doors 9:30 PM, $10, $20 with CD
El Mocambo (downstairs) 464 Spadina Ave. Toronto www.elmocambo.ca
Facebook Link: http://on.fb.me/GShNyb
Online Tickets: http://tktwb.tw/GV1TYm

After 15+ years of touring and countless shows, Canada's Roots Rockers The Fat Cats are set to release their third studio album entitled "Shine Box." A culmination of work that was recorded at Hamilton's Westmoreland Recording Studio, the album is an excellent representation of the bands song writing skills and is sure to please the senses of the incumbent fan, as well as a first time listener.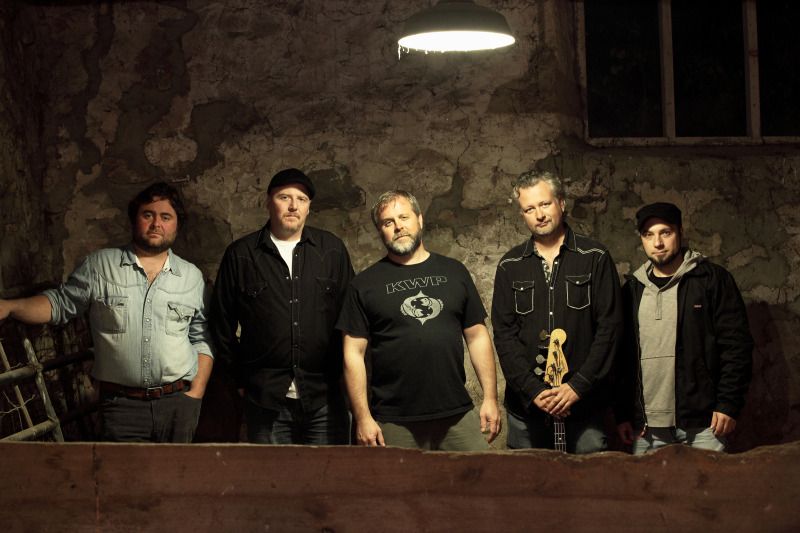 The Fat Cats
http://www.reverbnation.com/FatCatsMusic

In the last twenty years, the movement of Canadian independent music has seen fluctuating trends, the rise and fall of numerous venues and accelerating media train of possibilities. One stubborn child of homegrown descent was born and raised in the Hamilton music scene, and set out to make their mark in Canada and the U.S. alike: The Fat Cats.

With a truly genuine and original sound, the music itself has simple demands: just listen, and dance.

Not to be pigeon-holed by any particular style, The Fat Cats have made significant inroads within the "Jamband" genre, not only for themselves, but for a collection of other bands as well by creating an accessibility to the scene that reaches a larger group of music fans. Often being revered as the pioneers of the craft in Canada, the free flowing and uninhibited style of playing has been a specialty of the band since their inception. The everlasting chemistry between the players has kept this ideal blooming throughout their history, and forges the future of their unmistakable sound and groove.

The five-member unit is fuelled by a classic combo of guitars, bass, keys and drums. While the tools are common to the trade, the Fat Cats have navigated the music to open waters, sailing on wood, wire, reed and skin. Always maintaining an organic nature that pays homage to many great singers and songwriters, the sound takes on an electrifying groove that draws on all popular genres in the last 60 years. The song writing, while timely and lyrically relevant, possesses an ageless quality that speaks to all generations of listeners; basically, if you like music, you will like the Fat Cats. The band has shown their infectious groove makes them a sure bet to both draw a crowd, and entertain. Their fan base continues to grow and remain among the most loyal of music lovers.

Here to stay, it's the Fat Cats.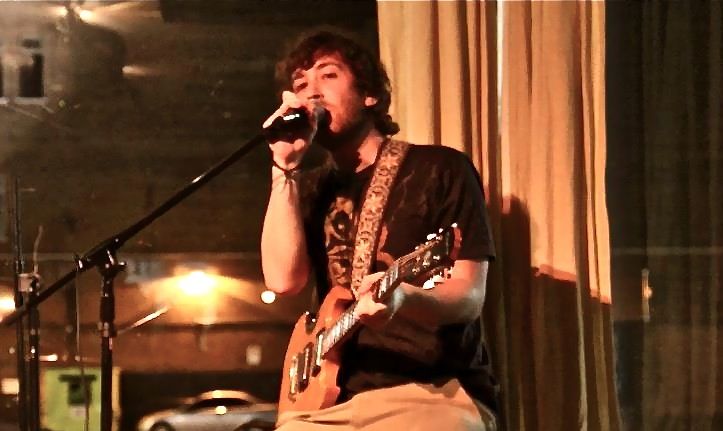 Live looping phenomenon Sam Klass is ready to take on the 2012 festival season, coming off huge momentum from a fall and winter of high profile performances, ground-breaking technical development, and an outpour of inspired music writing and production.

2011 was a banner year for Klass, having launched his first full length all live-looping demo "One Track One Take" to the world, produced by Kevin Park of The New Deal. His fast paced, heavily improvised, no-safety-net approach to live-looping has been generating wild reactions (mostly dancing and/or gaping mouths) from concertgoers and industry people at shows all over. Klass is at the forefront of next generation looping techniques, surpassing his influences in what he achieves on stage: high energy, fluid creations that fill the spectrum of an entire band. Everything Sam does is created in the moment using guitar and beatbox with digital and analog effects, making each show a unique experience.

Noteworthy opportunities have come quickly since Klass' debut as a one man operation back in November 2010. He has opened for high level acts like The New Deal, Charlie Hunter, Marco Benevento, Zach Deputy, Daniel Wesley, Rebel Emergency, The Fat Cats, Surprise Me Mr. Davis, Maylee Todd, and even Killah Priest of Wu-Tang. He has played at a number of festivals, including Come Together, The Junction, Supercrawl, It's Your Festival and more.

Combining elements of rock, funk, jam, hip-hop, jazz, reggae, and electronic music, with original song writing and characteristic instrument style, Klass has carved out his own musical identity through years of introspective writing and good, old fashioned instrumental discipline.

Sam's newest work, "Fluid Identity" is set to be released in May 2012. Teaming up again with Kevin Park, the 6 track EP combines Sam's live capabilities developed through the creation of "One Track One Take" with the production skills he honed through the development of his first release "The Last Names" (2009). All Klass' albums can be downloaded for free fromwww.samklass.com.

Imagine Keller Williams, Beardyman, Zach Deputy, Dub FX and Reggie Watts all smashed together. That's Sam Klass.

more info:


www.nufunk.ca