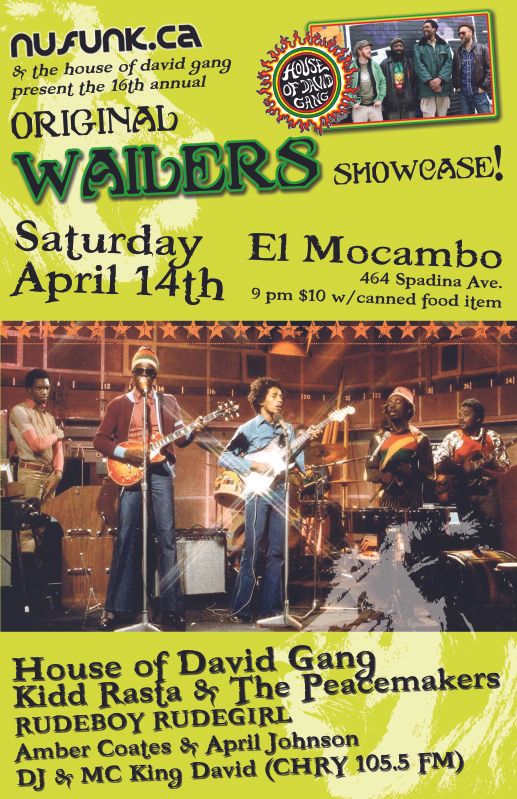 Saturday, Apr 14, 2012 9:00 PM EDT
Tribute to the Wailers featuring House of David Gang
Kidd Rasta & the Peacemakers / RudeBoy RudeGirl
Amber Coates & April Johnson / MC King David
at El Mocambo - Toronto,ON
$10.00 >> www.nufunk.ca
Facebook Link>> http://www.facebook.com/events/33609511309511 9/

Toronto's House of David Gang presents 16th Annual Original Wailers Showcase in tribute to reggae's immortal greats
Saturday, April 14th @ El Mocambo

NuFunk.ca proudly presents
THE 16th Annual ORIGINAL WAILERS SHOWCASE
featuring:
HOUSE OF DAVID GANG
& KIDD RASTA & THE PEACEMAKERS
+ RUDEBOY RUDEGIRL, AMBER COATES & APRIL JOHNSON
DJ King David (CHRY 105.5 FM)

Saturday April 14th
EL MOCAMBO (464 Spadina Ave.)
Doors at 9:30 pm
$10 at the door with canned food donation, $15 without



****

Nufunk.ca proudly presents the 16th Annual Wailers Showcase, Saturday April 14th at the legendary El Mocambo. This Toronto springtime reggae tradition celebrates the music of Bob Marley, Peter Tosh and Bunny Wailer -- The Original Wailers who defined reggae music as a genre and brought it to audiences all over the world. Headlined as always by the House of David Gang!!





The Story Of The Original Wailers

The three original Wailers -- Bob Marley, Peter Tosh and Neville "Bunny Wailer" Livingston -- came together as a band in 1963. They were also known The Teenagers, The Wailing Rudeboys, and The Wailing Wailers before settling on the name synonymous with Jamaican roots reggae music: The Wailers. Other early members of the band included Junior Braithwaite, Beverley Kelso, Cherry Smith and Aston and Carlton Barrett.

Some of The Wailers' most notable songs were recorded with Lee "Scratch" Perry and his studio band The Upsetters. During the early 1970s, the Barrett brothers formed the Wailers Band, providing instrumental backing for The Wailers. The Wailers recorded groundbreaking reggae songs such as "Simmer Down", "Trenchtown Rock", "Nice Time", "War", "Stir It Up" and "Get Up, Stand Up". They disbanded in 1974, and each of the three main members then had a solo career. Bob Marley achieved international fame with Bob Marley & The Wailers (with the Wailers Band as backing band and the I Threes as backing vocalists) until his death in 1981. Peter Tosh and Bunny Wailer both enjoyed considerable solo success as reggae music continued to gain popularity during the 1970s and 1980s. They were supported by their respective backing bands Word, Sound and Power and The Solomonic Orchestra.

Bob Marley died at age 36 of cancer in 1981, and remains the most beloved reggae icon of all time. Peter Tosh was murdered in 1987, his story immortalized in the Canadian-produced documentary "Stepping Razor Red X"; Carlton Barrett was killed that same year and Junior Braithwaite was also murdered in 1999. Cherry Smith passed away in 2008 at age 65. Bunny Wailer and Beverley Kelso are the only two surviving original members; Aston Barrett still tours with The Wailers Band.





About The House of David Gang:
www.houseofdavidgang.com
www.facebook.com/houseofdavidgang
www.myspace.com/houseofdavidgang
www.twitter.com/houseofdavidgang

Now featuring a new generation of talented artists alongside founding members King Selah and Collin "Jahlin" Edwards, House of David Gang is Canada's busiest touring reggae band. Rooted in the timeless tradition of Jamaican roots reggae from the 70s and early 80s as embodied by the immortal Bob Marley, Peter Tosh, and Bunny Wailer; House of David Gang adds a potent mix of jazz, funk and afrobeat to create a true global reggae orchestra.

On April 16th, 2011 House of David Gang proudly releases its new single 'Reggae Party' on Ohm Grown Records. This King Selah original pays homage to the great reggae vinyl tradition, capturing the band's warmth, energy and passion for roots reggae as it was meant to be heard. On the flip side is 'Right Now' by fellow Toronto roots reggae rockers Friendlyness & The Human Rights.




About Kidd Rasta & The Peacemakers
www.myspace.com/kiddrasta

Ten years and four albums later, Kidd Rasta and the Peacemakers are still on the scene creating more music than ever. It is in the ethnically diverse streets of Toronto, Canada where the band meets to create their unique sound. Being of Rasta faith, Kidd writes music to a reggae vibe but with a twist. Achieving radio play, television spotlights, and creating live shows, which can even get grandma up and dancing, has opened many doors for the band. This includes opening for acts ranging from reggae's Luciano to rock and roll's Lenny Kravitz.