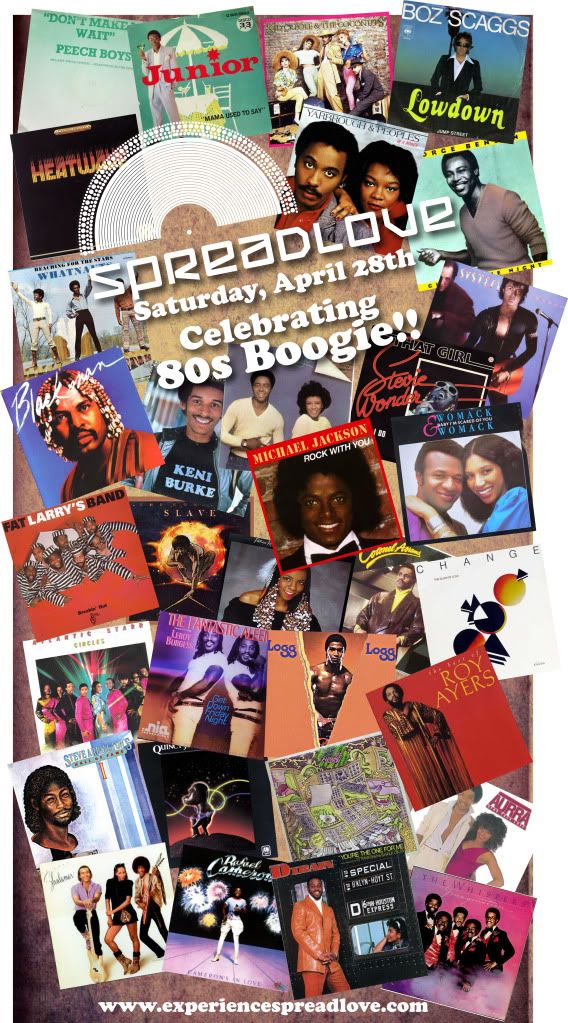 Teena Marie, Rick James, Steve Arrington & Slave, George Benson, Yarbrough & Peoples, Patrice Rushen, Evelyn Champagne King, Kashif, Shalamar, Morris Day & The Time, Madame X, Mary Jane Girls, Frankie Goes To Hollywood, Alexander O'neal, Cherrelle, Grace Jones, Cameo, Carl Carlton, Dazz Band, The Fantastic Aleems, Cheryl Lynn, The System, Freeeze, Atlantic Starr, Dennis Edwards, Rene & Angela, Stevie Wonder, Tom Tom Club, The Whispers, Shannon, SOS Band, Luther Vandross, Aretha Franklin, Junior, Level 42, Billy Ocean, Wham!, Hall & Oates, Gwen Guthrie, D-Train, Keni Burke, ...

...and sooooo much more 80s boogie classics.

SPREAD LOVE IS SATURDAY, APRIL 28
ADVANCE TICKET SALES END AT 9 PM on the NIGHT OF THE EVENT

Admission is $10 with RSVP and $15 without RSVP


SATURDAY, APRIL 28, 2012
DON'T BLAME IT ON THE SUNLIGHT!!
DON'T BLAME IT ON THE MOONLIGHT!!
DON'T BLAME IT ON THE GOOD TIMES!!
BLAME IT ON THE BOOGIE!!

SPREAD LOVE
80s BOOGIE EDITION

FEATURING ATL'S FINEST!!

DJ KEMIT
SECOND SATURDAYS @ EARWAX. FUNK JAZZ KAFE, HOUSE IN THE PARK, KEMETIC JUST, CLUB KAYA, OPERA
~ you name the venue/party ~ if you danced your ass off, lost track of time, and forgot where you were and who you were with, chances are, KEMIT was the DEEJAY!

DJ KEMIT was recently voted "Atlanta's Best DJ to Free Your Soul" by Creative Loafing readers; He's the Grammy-nominated producer behind Anthony David's hit "4evermore" and is a touring deejay with the likes of Teddy Riley/Blackstreet & Musiq Soulchild, and Algebra Blessett.
DAZ-I-KUE
BUGZ IN THE ATTIC / GODFATHER / THE G++DNESS/ FUTURE SOUL
Daz-I-Kue, a Londoner and now Atlanta resident, and a member of the world respected production crew Bugz In The Attic, who have remixed the likes of Macy Gray, Soul II Soul and 4 Hero, is widely seen as one of the pioneers broken beat genre. A vinyl junky from the age of 5, he's a DJ, producer, sound engineer and promoter, widely seen as the hardest working man in West London and now Atlanta, GA his new home.
ARTISTS MARKET
CLASSIC FILMS, LIVE ART & MORE!!

SATURDAY, APRIL 28, 2012
10 pm to 3 am

$10 Advance Tickets online
TICKET LINK: http://www.experiencespreadlove.com

$10 Advance Tickets at Moods Music in L5P -

$10 at the door with RSVP
RSVP LINK: http://www.experiencespreadlove.com

$15 at door without RSVP

Must be 21+ w/ valid ID

For BIRTHDAY PARTY RESERVATIONS, VENDING OPPORTUNITIES, BOOKING DJ KEMIT, & more information:
Call 866.286.8405
or
Email spreadlove.da.da.da@gmail.com

JOIN the SPREAD LOVE family ON FACEBOOK ~ http://www.facebook.com/groups/116384024362/
We're giving away a pair of Chaka Khan concert tickets....but you've got to be in the Spread Love group to enter!

FOLLOW SPREAD LOVE ON TWITTER ~ http://www.twitter.com/SpreadLoveATL

JOIN THE SPREAD LOVE EMAIL LIST ~

DIRECTIONS TO 595 NORTH EVENT VENUE

595 NORTH EVENT VENUE
595 North Avenue, NW ATL 30318

From 85/75 heading South, Exit North Ave/Georgia Tech Exit
Turn Right Pass Georgia Tech Cross Northside Dr.

From 85/75 heading North, Exit Spring St,
continue to W. Peachtree St. Turn Left
continue to North Ave. Turn Left
Pass Varsity & Georgia Tech Cross Northside Dr.

At the intersection of North Ave. & Northside Dr.

Downtown Atlanta at North & NorthSide, minute from the Georgia Dome, Phillips Arena, Georgia Tech, Spelman/Morehouse/AUC.


Go where the music takes you.

Spread Love.